Why Skybus should not be on a rail map
This is my second post about the new version of the Victorian Rail Network Map that PTV have started distributing in trains – as shown in my previous post (thanks again to Mark Williams for the photos).
I've already talked about my gripe with including things under construction on an operational map. My other main issue is something that has actually been on the map for a while. Unfortunately, this new update has just made the problem worse.
In my opinion, Skybus does not belong on this map. This is for five main reasons that I'll briefly go through:
It is not a myki or V/Line ticketed service
Most PTV maps do not include Skybus
The map does not show all Skybus routes
No other airport route options are shown
Skybus is not a train
1. It is not a myki or V/Line ticketed service
The first point to make is that Skybus is not part of Victoria's integrated public transport ticketing system. With a few minor exceptions, you can travel anywhere in the state using a myki or, for long-distance train and coach services, a V/Line paper ticket.
The only exceptions to these rules are smaller, mostly individual routes like Western Port Ferries or the West Gate Punt. Both are operated on behalf of PTV – hence the branding and turquoise colours.
Despite previous rumblings of myki being introduced to Skybus service and the option to do so being included in their 2018 contract (page 36 if you're interested), you still need to purchase an entirely separate ticket in order to travel.
This makes Skybus an anomaly on this map. I don't think it's unreasonable for someone to assume that everything shown on a public transport map is usable with a public transport ticket. Here that is not the case and opens the door for confusion – especially for tourists.
2. Most PTV maps do not include Skybus
Out of the many maps that PTV publishes, this is the one of only a few that includes Skybus. It's a somewhat separate topic, but there is little consistency in which maps do or do not include Skybus.
While this train network map does show the route, the tram network does not. The regional train and coach map does, while the Night Network train map does not. None of the local area maps show Skybus either.
I'm always up for consistency in maps. Unfortunately this doesn't exist for Skybus. To me, it makes more sense to remove it than add it in to every single one. It doesn't belong on the tram network map any more than the train network map.
3. The map does not show all Skybus routes
If you look at the map, you would think that Skybus operates only two routes – one each to Avalon and Melbourne Airports from Southern Cross Station (Spencer Street…).
There are, in fact, no fewer than nine different services operated by Skybus in Melbourne. These include buses to Croydon, Docklands and Rosebud. These run directly to and from Melbourne and Avalon Airports without going through Southern Cross Station.
Why are they not all shown, and why is this a problem in itself? The answer may lie in my thinking behind the next reason, explained below.
4. No other airport route options are shown
One justification that I have seen for this situation is that Skybus needs to be included because there isn't a current public transport service to Melbourne Airport. But this is not true.
As the PTV website shows, there are several options to get to the Airport by public transport. Granted, they can be quite slow and may take some planning to use, but for a good chunk of Melbourne these may actually be better options than travelling all the way into the city and catching a Skybus back out to the Airport.
So if the purpose of including it is to show people how to reach this major trip generator, then why not include all the options? The answer, of course, is that the map would then be cluttered with several non-train route connections.
As with the other Skybus routes, to my mind it's "all or none" – you either show all or none of the information that you want to convey to your map audience. Including just some is worse than including none at all as it creates confusion.
And speaking of confusion…
5. Skybus is not a train
For me, this is the simplest and most compelling reason.
The title of the map is "Victorian Train Network". Buses are not trains and should not be on the map.
As with other things that shouldn't be on maps, they add clutter to the design. Visual real estate on maps is precious and should be used wisely.
In the end…
I should say that none of this is a reflection on the quality or usefulness of the Skybus service. It's a perfectly legitimate transport link and provides a lot of good connections for people to get to the Airport. All that I'm saying is that (part of) a single, separately-ticketed route option to reach Melbourne's airports that runs completely separate to the rest of the public transport network should not be on a map of Victoria's railways.
Overall, the passenger information for transport options to and from both major airports needs improvement. I've quickly knocked up this map below to show the practical public transport options to get to and from Melbourne Airport (sans Skybus). I'll also do a larger version some time soon with Skybus routes included – something that I don't believe has been done before.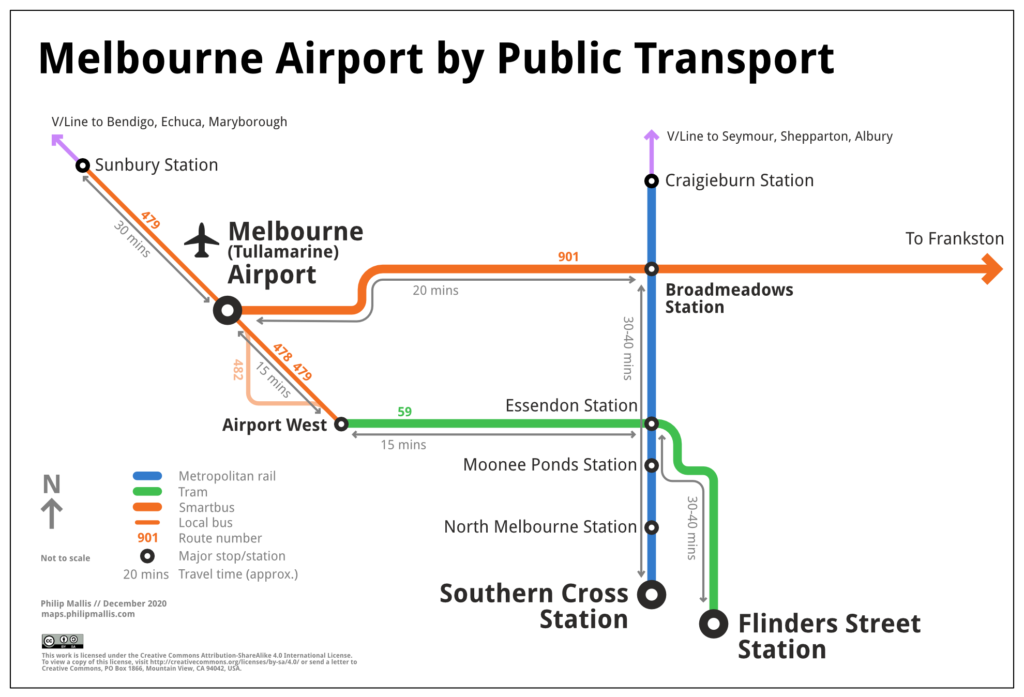 Please excuse the somewhat rough nature and any errors/issues – I quickly did it in about two hours for this post so I could get it out before New Year's Day.
Daniel Bowen also has a good page here with route options listed and the official PTV and Melbourne Airport ones are here and here if you are interested.
As I noted above, including Skybus is not something new on the PTV rail map. However, the addition of the Southern Cross – Avalon route on the latest update just exacerbates the existing problem and seems to indicate that it won't be going away any time soon.