UPDATE 22/02/2022: I have received some comments about this project that I would like to address.
I have been told that my maps can be interpreted as negatively contributing to an issue about the "real cost" of banh mi.
Others have written about this far more eloquently and with more authority than I ever could, but it refers to a general view held in society about the "acceptable" price of a banh mi (and other Asian food, it's not just limited to these). It speaks to how people will happily pay double or triple the price for a dish of equal quantity/quality for some cuisines but not others because of artificial cultural concepts.
As Jerry Mai, interviewed for the same The Age article in which my map was featured, said:
"It's not valued enough…We've paid the same price at some bakeries for years, how does that cover the cost of making them?

The Age
There is more detail in these two articles from SBS and NPR. There is other content online to learn more.
I am very sorry for causing any distress. I never had any intention of doing so or causing harm to anyone. My maps were meant purely for interest and not designed to add to these attitudes.
Please accept my sincerest apologies. Please get in touch with me if you want to discuss this further.
---
UPDATE 19/02/2022: Post updated 19/02/2022 to include updated figures and information based on addition of new data.
Scrolling through Twitter doesn't normally get me into trouble. Last week this changed.
I found myself volunteering to make a map of banh mi prices across Melbourne in response to a tweet from Declan Martin. From the response this post received, it was quite a popular idea.
So without further ado, here are the results.
Price maps
The first thing is the original request – a heatmap of banh mi prices.
I have deliberately set strict parameters. Scope creep is very real with these things and it's important for me to set boundaries and stick to them.
I set the price of a roast or crispy pork roll as the benchmark to ensure a fair comparison. There are many types of banh mi and comparing prices of them all would be impossible. For the purposes of this map, I have used the price of any menu item listing "crispy pork" or "roast pork". For the rare occasion where an outlet does not have either (only three or four on the list), I have taken the midpoint price between the most and least expensive type of banh mi on the menu.
Please note that the suburbs displayed are those for which I have price information for, not where there are or are not banh mi shops. See the data notes below for more details on how this map was made.
One obvious issue here is that most suburbs only have a handful of banh mi shops – generally between one and two. This is not a great sample size and skews numbers.
As a result, I have made a second price map using local government boundaries. This groups suburbs together to get many more price points in a single area. This larger sample size should, hopefully, produce more meaningful results.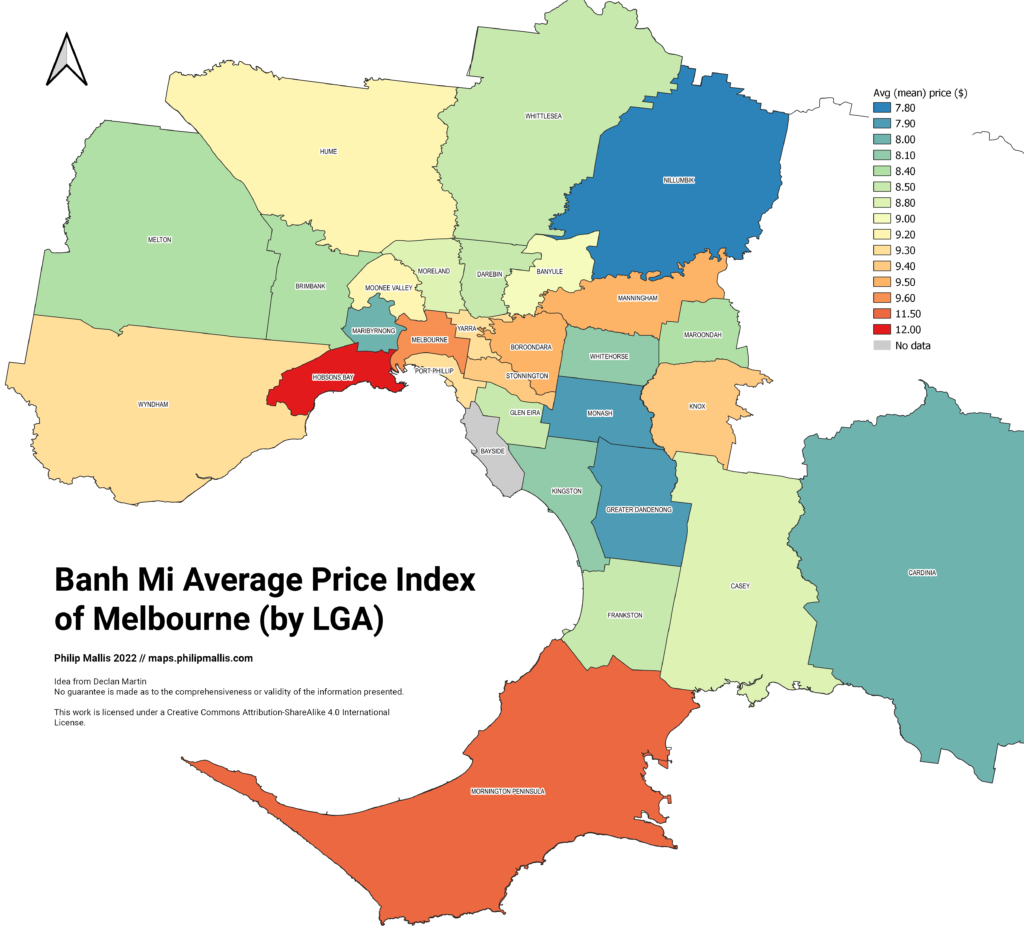 As a quick overview, Hobsons Bay ($12.00) and Mornington Peninsula ($11.50) have showed up as the highest average price for banh mi in Melbourne. Note that both of these LGAs have small sample sizes (n=3 and n=5 respectively) and one particularly expensive outlier in each that skews the mean higher.
Nillumbik is the cheapest at $7.80, but this is from a very small sample size (n=2). Greater Dandenong and Monash are the next cheapest, just behind at $7.90.
A location map
I decided to use the data collected to create two more maps showing known shops that sell banh mi in Melbourne. One map shows points for all 306 shop locations, with the second displaying these as a heatmap.
Note that price information is not included here because I can't keep it up to date (see below).
You can see the point map here: https://philam.github.io/banhmi/index.html
And the heatmap here: https://philam.github.io/banhmi/heatmap.html
If you're interested in the code, it's all here: https://github.com/philam/banhmi
Why no others?
Some people commented that this could turn into some kind of permanent 'banh mi near me' project – similar to the covid19nearme.com.au project by Ken Tsang (who, incidentally, you should consider supporting for his amazing work).
The main issue is that there is no API or other automated data source that I can plug into. As a result, the map would rely on me or crowdsourcing to update this information. Setting this up and keeping it up-to-date would take me more time than I can commit. But if anyone else wants to have a go, be my guest!
I won't be keeping any of these maps up to date for the same reasons – they are just meant to be 'snippets' in time.
Data notes
Most suburbs have a small sample size of only one or two shops. All told, there are 306 shops selling banh mi in Melbourne that I found. However, there are almost certainly some that I have missed – particularly smaller shops that may not have an online presence.
The main criterion for including price information was that it must be reasonably current (i.e. within the past 12 months). It took me a long time to find prices for lots of these shops and in the end I could not find information for 63 of them. They are included on the location map but not the price map.